The Victory Garden Companion
Michael Weishan, nationally acclaimed garden designer and host of America's most popular television gardening series, shows you how to create a beautiful landscape for your home.
Praise for:
The Victory Garden Companion
From Publishers Weekly:
Starred Review. "PBS's popular, long-running The Victory Garden inspires this work by Weishan, the show's host, and Donnelly, its executive producer/director. Weishan, the first-person voice of the text, doesn't necessarily provide new information, but rather "a triage of the data already out there" with an information-packed overview of the full range of gardening basics. Chapters on design, planning and preparation, the front yard, the back yard, the lawn, the flower garden, the vegetable garden, growing berries and urban gardening combine inspiring ideas with solid, how-to instruction. Weishan's detailed descriptions of relevant features at the Victory Garden itself, informative listings of recommended plants, step-by-step project guides, insights and profiles of outstanding gardens are firmly rooted in the real world. For example, he blames the media (himself included) for tending to "underestimate and downplay the difficulties involved in designing and maintaining large flower borders" and offers alternative schemes that are more manageable but equally attractive. This levelheaded approach is a welcome relief from the breathlessly enthusiastic tone of many other authors. Likewise, the 200 color photographs and 46 b&w illustrations do more than decorate; they illuminate. The real victory here is for gardeners at all skill levels, who will learn to create beautiful, enjoyable, useful outdoor spaces that will enhance their lives and the value of their homes." (Apr.)
Copyright © Reed Business Information, a division of Reed Elsevier Inc. All rights reserved.
From The Book Page:
"Black gold for any gardener looking for that perfect combination of how-to and why in one handy volume."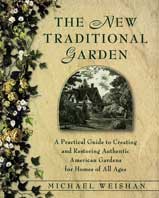 The New Traditional Garden:
A Practical Guide to Creating and Restoring Authentic American Gardens for Homes of All Ages.
Praise for:
The New Traditional Garden

From Country Journal:
"For people who carefully preserve the historic details of their old homes, this must-have book explains how to garden, too, with a sense of history. Modern standbys like clipped hedgerows and overmulched perennial beds are incongruous with a period house. Weishan's truly comprehensive guidebook explains what does belong. Best of all, The New Traditional Garden is abundantly illustrated with period lithographs, each one a wonderful window into traditional landscape styles."
From Lee Reich, Associated Press
"In The New Traditional Garden, Michael Weishan captures the spirit and romance of gardens and landscapes of another time – and then provided the nuts and bolds for creating such landscapes today."
From a Victorian Garden
Creating the Romance of a Bygone Age Right in Your Own Backyard.
Praise for:
From a Victorian Garden
From Publishers Weekly:
'Weishan and Roig offer an absorbing chronicle of British Columbia's Point Ellice House, a quaint residence owned by one family, the O'Reilly's, for nearly a century. Now a historical landmark and museum, the slow progression of the home's remarkable gardens is traced through a series of vivid color photos by Susan Seubert and the black-and-white engravings original owner Peter O'Reilly used to plan his garden. Strictly adhering to the idea that "Victorian gardens were expected to be productive as well as aesthetically pleasing," O'Reilly and his wife, Caroline, laid the foundation of the grounds that exist to this day. Excerpts from family letters included throughout the book provide an intimate look at the love the O'Reilly's lavished on their garden—and each other. The handsome book features the ornate gravel paths, croquet lawns, vegetable and cutting gardens that are all key features of this impressive estate (the average hobbyist should note that the O'Reilly's maintained an extensive staff of laborers to carry out the property's more menial tasks). Detailed listings of the period roses planted at Point Ellice will intrigue even the most knowledgeable rosarians, while advice on "Hosting a Victorian Garden Tea Party" will have many readers eagerly pulling out their grandmother's china for a late-afternoon fete. The authors also include several of Mrs. O'Reilly's favorite recipes derived from her garden labors, and other sections offer how-to tips on playing croquet, naturalizing bulbs and even espaliering fruit trees, the lost art of training trees to grow flat against walls. This cozy yet practical book is a must for gardeners determined to replicate the charm and merriment of the authentic Victorian garden."
"...Using the gardens of Point Ellice a guide, Michael Weishan shows readers how to recreate the romance of the Victorian garden right in their own backyards, from simple projects such as growing period annuals, to more advanced gardening skills, such as designing a welcoming driveway or laying out a shrubbery border for year-round bloom. A must-have, highly accessible addition to every gardener's library, From a Victorian Garden is at once a journey back in time to the Gilded Age of gardening, as well as an up-to-date reference for creating period landscapes today."